Drilling Attachments
Attach yourself to the best
With a product knowledge that is second to none Premier Rock Machinery is proud to be an authorised supplier of Montabert rock drills in Queensland.
We stock the best range from the Montabert rock drills selection: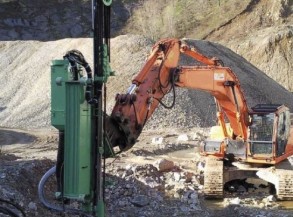 – CPA225
– Micro CPA360 and the rest of the CPA range.
The CPA225E is an excellent choice for versatility, as it can be used for a variety of tasks including loading, trenching and demolishing.
The Micro CPA360 is the perfect model for difficult access sites, yet the rod length and pressure is competitive. Each model has its own features and benefits; if you're having trouble comparing, let us know and we will identify one to meet your current and projected future requirements.
We're more than happy to advise on purchasing of Montabert rock drills for just about any application, from large scale demolition and construction (including public works) to drills compatible with smaller excavators.
No matter what model you've got, Premier Rock Machinery can also take care of maintenance and repairs quickly and efficiently.
Montabert machinery is an excellent investment for any firm or contracting organisation. For those in need of a little help to get ahead, we offer finance on most models. Please ask about funding options when you enquire. Limited hire options are also available for those with restricted short term needs – just ask what's available.
Find out more about Montabert rock drills by downloading the brochures, which include technical specifications.
https://www.youtube.com/watch?time_continue=2&v=h5O2JhA-ZiI