Hydraulic Drifters
Attach yourself to the best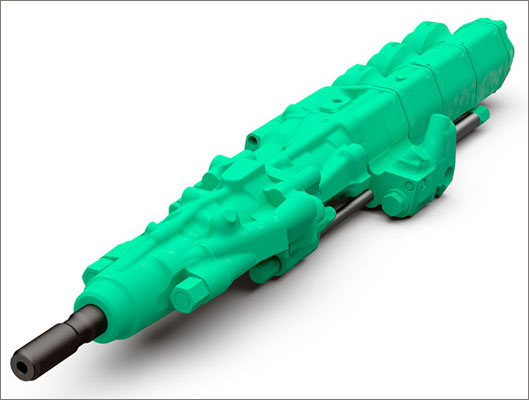 Decades of research has been put into the current lineup of Montabert rock breakers and drifters.
Montabert specialises in design that is truly in touch with concepts of physics including progressive blow energy and hydraulic dampening. It's all about understanding the pattern of energy that the impact creates, and engineering accordingly. The design of the piston inside creates a perfect long shock wave in a trapezoidal (four sided shape with at least one pair of parallel sides) shape. This allows for better penetration, whilst reducing stress on the machinery itself.
With features like an energy recovery valve and a hydraulic dampening system, Montabert drifters offer excellent, cost-effective service. They also have an optional hydraulic reverse percussion system, which ensures there are no rods or tools left in the ground. In addition to outstanding design, they are made of specially engineered highly durable materials. The Montabert manufacturing plant in Saint-Priest, France, uses a special heat treatment to harden components.
There are eleven different models in the range. Download the brochure to find out more about Montabert drifters, including technical specifications. If you're not sure which would best suit your requirements, feel free to contact us: as an authorised dealer, our product knowledge is second to none. We also carry a select range of replacement parts, including compatible tools.