DEMOLITION
Attach yourself to the best
Rotar
Rotar has an extensive product line with equipment for excavators and wheeled loaders. Throughout the years, Rotar have significantly expanded their product range and have grown to become a full service supplier for the demolition and recycling market. Rotar product range is not only broad the company is constantly further developing products. Because Rotar manufacture products themselves they are able to quickly respond to new requirements in the market.
Rotar Scrap Shear –
Enormous cutting power and rapid cycle times guarantee incredible productivity. The RSS series will cut tonnes of steel in the blink of an eye!
Rotar Orange Peel Grab –
Rapid cycle times combined with a large volume make the RPG Rotar Orange Peel Grab the perfect attachment for transferring scrap.
Rotar Demolition Pulverizer – Incredible cutting powers combined with easily replaceable wear parts make this Rotar Demolition Pulverizer the perfect pulverizer for demolitions.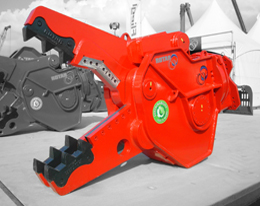 Rotar Demolition Combi Shear –
Combining incredible cutting power and easily replaceable wear parts, the Rotar Demolition Combi Shear is the perfect demolition shear for primary demolition activities.
Rotar Rail Cutter – The Rotar Rail Cutter is synonymous with enormous productivity. With its fast cycle times and incredible cutting power, the RRC series will process tonnes of rail in the blink of an eye!
Rotar Sorting / Demolition Grab – Reliable, service-friendly and extremely strong. The RG series is the perfect grab for industrial demolitions and intensive sorting and recycling activities.