PILING
Attach yourself to the best
Movax
Movax Oy Ltd is a Finnish company which has manufactured excavator mounted equipment since 1993 under registered trademark MOVAX. The company's factory with over 6000 square meters and modern production machinery is located near Finland's capital city Helsinki.
Movax product program consists of excavator mounted side-grip vibratory hammers, tube drivers, impact hammers and soil drills. Movax concept offers savings on total investments, multi functionality and higher productivity.
Movax Ltd's leading idea – "Productivity through Innovation" stands for being well aware of its customers and their needs on jobsites.
Today there are more than 1500 MOVAX units delivered to more than 50 countries, on six continents, world wide – see Reference Map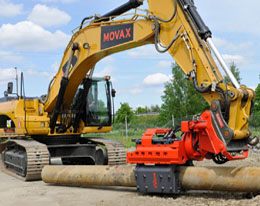 Side-Grip Pile Drivers
Movax Side-Grip vibratory hammers can be equipped with clamps for tubular steel piles, timber piles, H-piles, sheet piles and more.
Piling Hammers
Movax piling hammers are excavator-mounted hammers for driving load-bearing piles or assisting in sheet pile driving in difficult soil conditions.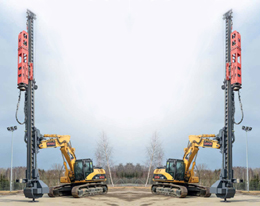 Leader Mast
Leader Mast for piling applications with over 12 metres of effective leader length. Ideally suited for different type of driven piles, preaugering or different techniques of cast-in situ piles.
Movax Control Systems
Movax piling equipment can be installed on most of standard excavators with one-way auxiliary hydraulics or breaker circuit as it is often called.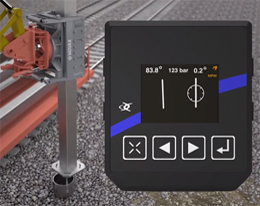 Movax Manipulator MPM 4000
MOVAX manipulators are designed for fast, flexible and efficient handling of masts and poles.
Piling Drills
Movax Piling Drills are excavator-mounted auger drive attachments for cast in-situ piling and other earth drilling work.
MOVAX pre-augers
MOVAX pre-augers are the optimum solution for supporting vibratory pile driving (and impact driving) in difficult or demanding soil conditions.
(MIMS) Information Management System
mFLEET Management is a part of the innovative MOVAX INFORMATION MANAGEMENT SYSTEM (MIMS).
mPILING MANAGEMENT
mLogbook, which is the first of the mPiling Management data suite tools, is a documentation and reporting tool which provides essential data related to the piling process.