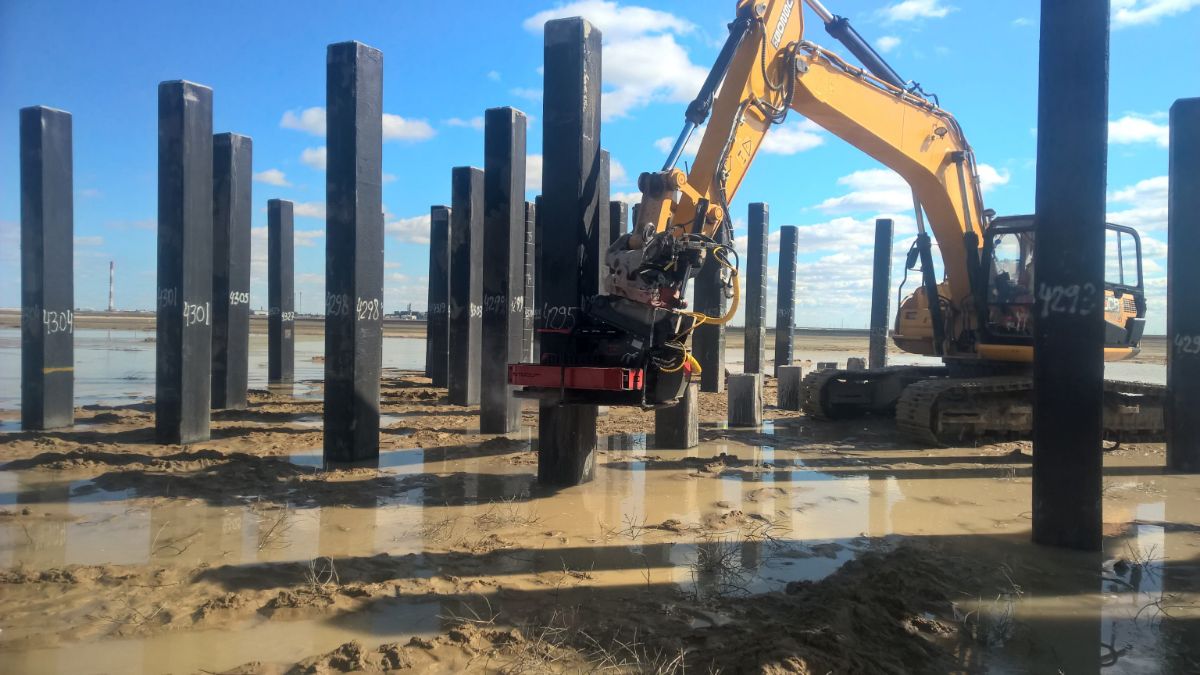 MotoCut automated pile cutters were in operation at a massive oil industry construction site in Central Asia. The project involved cutting nearly 60,000 precast concrete piles over a period of two years. The project was carried out with four (4) MotoCut units (3 x Q-400 and 1 x Q-500) to cut 400 x 400mm (16" x 16") concrete piles. The MotoCut pile cutters were fitted on 30-ton excavators.

Manually two per day, with MotoCut up to fifty piles per day
The ground at the site was a former seabed, which meant that the piles had been specially treated to fit the salty environment: the piles contained stronger and larger diameter steel than usual. On average, one MotoCut cutter was able to cut 30-50 precast concrete piles per day. Manually, the cutting speed would have been two per day as the piles in this project needed to be cut in two directions due to the large number of rebars in the pile. For a constructor, using a MotoCut-automated solution meant a significant increase in productivity and major cost savings.
Easy to learn, quick to use
The customer was pleased with the endurance and automated cutting power that the MotoCut products were able to offer. In addition to being easy to learn and quick to use, the MotoCut solution offered increased safety as it is operated by a single person, isolated from the danger zone in the excavator cabin.
The large-diameter steel rebars required cutting in two directions. When the steel rebars were cut, the rest of the uncut concrete was just twisted off using the MotoCut grapples and the off-cut was placed safely on the ground.
Harsh environment makes MotoCut even stronger
In the giant oil refinery site, the environmental conditions brought extra challenge. The temperature varied between +40°C and -40°C (from 104°F to -40°F). The wind also blew hard in this seabed desert construction site, carrying sand into the machines. In the summer, a tank mounted on the excavator provided water for dust suppression and blade cooling. In the winter, a special water heating system was used to keep water from freezing.
We can therefore say that the MotoCut pile cutters went through an ultimate environmental testing during the project!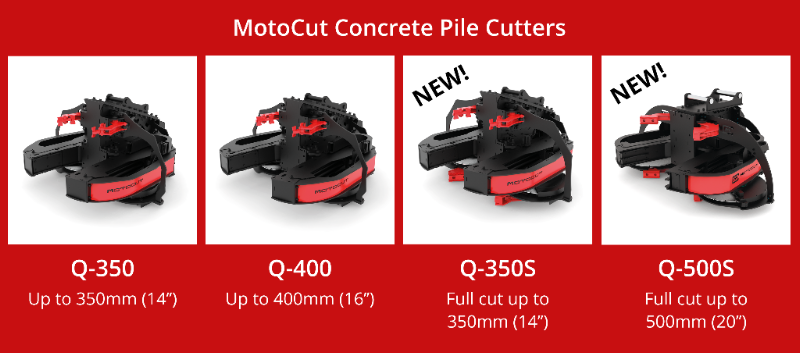 MotoCut Q-400 and Q-500, used in the project, are designed to cut piles from 200mm to 500mm (8" – 20") square. Cutting is monitored and controlled from the excavator cabinet. In addition to an auto-cut option, the operator can select among a variety of cutting and sawing patterns, including simultaneous cuts from both sides, or one side only.