Article published in Quarry Magazine, October 2017
A company that has operated since 1921 and which today is a subsidiary of Komatsu Mining Corporation's hard rock division, Montabert specialises in the design, production and marketing of hydraulic demolition (breakers) and drilling equipment for professionals of public works, mines and quarries. Premier Rock Machinery have been the Montabert dealer in Queensland since 2010.
Montabert's 165 sites around the world allow it to achieve 85 per cent of its turnover in export. Production is fully integrated within its manufacturing facility in Lyon, France. The factory is an autonomous unit, with a purchasing department, a design office, a testing laboratory, production workshops and support services. Between four and five per cent of the organisation's turnover is in research and development.
Significantly, some incredible precision engineering takes place on Montabert's breakers, which can weigh up to six tonnes. This is shown in the manufacturing process, which is divided into several steps. The process starts with an unmachined steel bar and then commences with five stages of machining operations.
To achieve this outcome, Montabert uses five-axis computer numerical control (CNC) machining centres, the same type of technology employed by famous Italian motor company Ferrari. The machined parts pass through the factory's thermal heat treatment plant, giving the soon to be assembled breaker parts the very best extreme heat resistant properties.
This material is subject to enormous stress, and this can be referenced in the field, where breakers operating at several hundred blows per minute can release energy of more than 10,000 joules. This technical excellence is what places Montabert in the top three manufacturing companies globally in the hydraulic business.
The company's success is driven by the success of its customers, and the firm is committed to constant innovation and product development in breakers, such as the world-renowned, patented variable speed technology. It can be identified that adopting this type of know-how, along with the breaker's lower input power requirement, results in better percussion efficiency. This, along with the company's industry recognised energy recovery and regulation system, leads to greater hydraulic effectiveness.
Overall, higher output power means greater productivity in fractured and semi-fractured rock. The maximisation of breaker productivity also means a higher output ratio between energy and frequency. In addition, such production gains lead to better diesel fuel efficiencies attained with excavator operation. Ultimately, this is good news for quarry operators, as it is common knowledge that diesel fuel is the highest cost component of any extractive operation.
Montabert breakers are a targeted product for quarrying, with unique frequency and energy systems. The outcome is higher productivity, controlled maintenance costs and reduced costs per metre.
Montabert rock breakers are easy to put in position against the surface because they start in low energy, then the energy increases gradually as required. Montabert is one of the few companies that can supply a full range of rock breakers and excavator-mounted drilling attachments.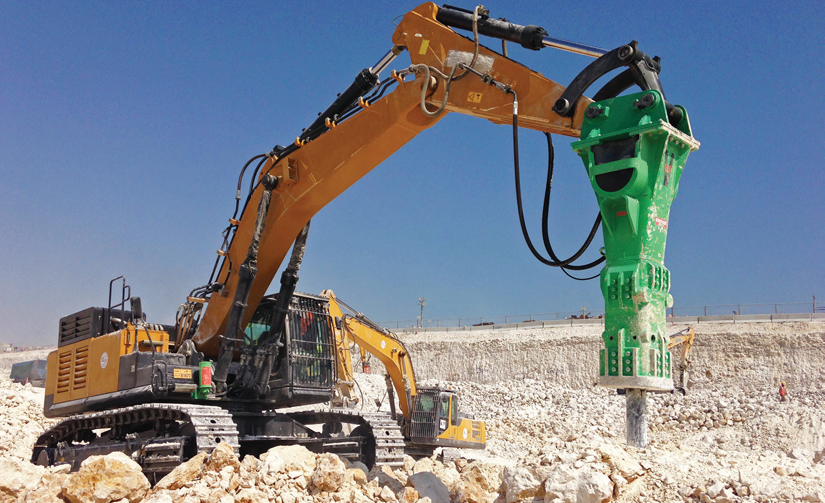 Breakers operating at several hundred blows per minute can release energy of more than 10,000 joules.