FOR SHEER DIVERSITY OF INNOVATION ON DISPLAY, THE PREMIER ROCK MACHINERY STAND
AT THE CCF CONFERENCE TOOK SOME BEATING. WITH FRANCHISES SUCH AS MOVAX, REMU AND
MONTABERT, THAT COMES AS NO SURPRISE.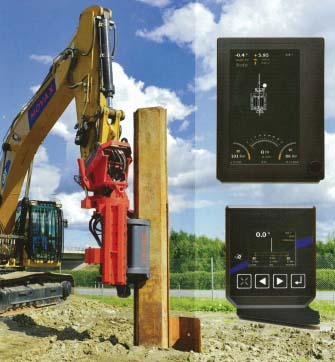 Movax was possibly the star of the competitive field, having not only a display of the Movax control system but also a representative from the factory in Finland to explain the features and handle any curly questions that contractors delight in throwing out there.
Movax was a pioneer in excavator-mounted piling attachments, initially specialising in side grip vibratory pile drivers suitable for sheet piles. The side grip meant that the attachment could be used in low headroom applications, and also meant that the excavator arm did not have to be sized so that the sheet pile could hang beneath the head of the boom.
Gripper options allow the vibratory driver to handle I-beams and tubular steel and round timber piles as well as sheet piles. Success with this innovative attachment brought demand from contractors to add extra features, and to offer other types of excavator-mounted piling attachments.
An impact hammer was developed to complete pile installation where refusal has been reached with a vibratory hammer. The Movax control systems have added another dimension to the attachments, and are available in Pro and Lite versions. They allow the operator to control all Movax operations through the excavator's auxiliary (hammer) circuit.
The CS Lite system has a simplified excavator system that suits machines used intermittently in piling applications, while the CS Pro system suits specialist operators essentially dedicated to productive, high quality piling work.
The Lite system has an 80mm screen, a proportional pilot valve for controlling the auxiliary circuit, a display showing Movax angles, vibro frequency/piling hammer impact energy rate and hydraulic pressure. Basic service interval
and system diagnostic data is also provided.
A joystick with switches and thumb wheels is used to control the piling functions. The CS Pro system has a 175mm screen with graphics for the Movax position, vibro frequency/piling hammer impact energy rate and hydraulic pressure. Use-friendly menus are used to calibrate and optimise the Movax and excavator hydraulics. Full system diagnostics are provided on screen, as are reminders for service intervals.
An auto control feature allows the excavator mounted Movax to travel in a straight line either vertically or horizontally by taking over the difficult part of the boom control. Angle sensors on the excavator and Movax attachment and proportional pilot valves are used to achieve this. The operator has the option of switching
between automatic and manual control. Upgrade options include pressure sensors and a boom-mounted camera or wireless site camera.