Renting a Movax pile driver or Montabert breaker from PRM helps support Soldier On in their efforts to develop the Michael Fussell Centre of Excellence. PRM donate a percentage of the rental payments to Soldier On.
Soldier On has been working with Concord Repatriation General Hospital (CRGH) in developing Australia's first, world class facility to provide integrated, holistic, and cutting-edge specialist services for Australia's Defence and national security personnel.
The Michael Fussell Centre of Excellence will work in conjunction with CRGH and will provide a patient centric care model to serving and ex-serving personnel, and their families. On-site accommodation will be available for families to join their loved ones while they receive this critical clinical support through CRGH. Soldier On will provide support and services to the family.
On recognition of their support PRM were given a foundation brick as a token of their support to the project. Soldier On have made replicas of this brick to assist then to build a miniature wall which will be presented when the Centre is officially opened. Special thanks to our customers . PCA Ground Engineering, T&L Bryne and G O'Toole who also received their personalised bricks in the wall through renting equipment through PRM!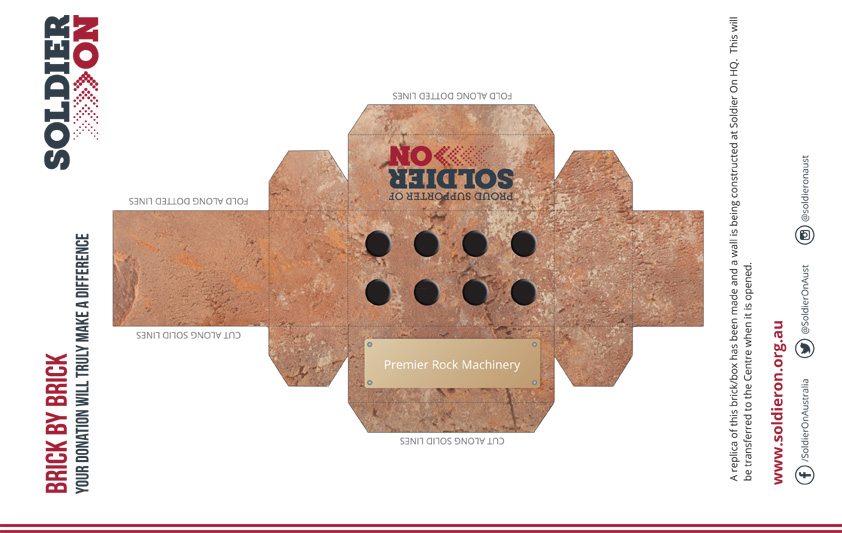 As well as our own brick for the miniature wall we also have bricks for supporters and would be most happy to put forward any of our valuable clients who may be interested in having their own brick added to the wall.