Finnish Cut – News Report on MotoCut Q350 as published in Earthmovers UK
PRM are the Australian Agents for MotoCut and have already sold the first MotoCut into Australia to Dundrum Civil in Queensland
News item by Nick Drew published in Earthmover UK Magazine
By its very nature, cutting concrete piles is often a somewhat crude and back-breaking affair. The most common methods are either to use a hydraulic cropper attachment suspend by chains from an excavator, or doing the job manually with a disc cutter. Both these methods can have issues. The cropper makes a lot of mess, leaves the reinforcement steel exposed and can cause cracks further down in the pile itself. Undertaking the task manually is a slow process and poses serious risks for the ground worker concerned.
A few years ago two Finnish entrepreneurs, Teppei Morimoto and Antti Makela, who have had a long involvement in the piling industry, decided that there had to be a better, faster and safer way to undertake this job. Teppei has spent many years cutting down piles using a hand-held diamond cutter, so he knew what he was talking about and was keen to bring this procedure into the 21st century. Between them they came up with the MoteCut concept, a hydraulically-driven pile cutter featuring a pair of diamond cutting blades.
It will come as no surprise that the Scandinavian market is the first region to accept this new attachment, typically mounted to the excavator on a tilt-rotator. Examples have been sold as far afield as Russia and Australia, and the first two MotoCut pile cutters are now working in the UK. In addition, Movax piling equipment dealer mPiling has been appointed the new MotoCut distributor for the UK market.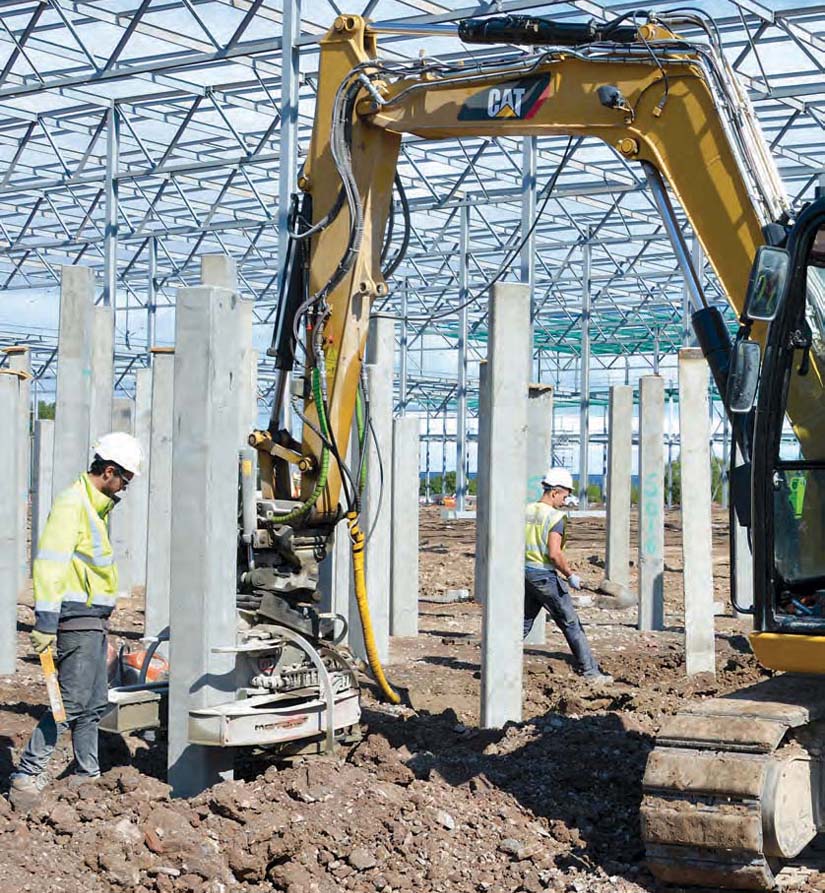 SITE VISIT
The second MotoCut attachment in the UK has been sold to Herrfordshire-based MDF Construction. We encountered it on a new facility for Lidl, being developed by TSL Projects on the massive Central Park warehouse and distribution site at Avonmouth.
The ground is soft clay, requiring piling down to the undulating layer of bedrock. Piling sub-contractor Aarsleff drove around 10,000 pre-cast concrete piles. MDF undertakes the vast majority of the groundworks for TSL. For this job TSL specified that, when cropped, there would be a clean finish to the top of the piles, to enable them to receive a suspended floor.
MDF's MD, Michael Fasola, therefore looked into the alternatives and following advice from MotoCut's David MacLynn, was convinced that this product would be the ideal solution. MDF's Caterpillar 308E2 CR midi-excavator fitted with Steelwrist XI2 tilt-rotator and a MotoCut Q350 pile cutting attachment. It was put to work on the 600,000sq.ft distribution centre in June this year, with Michael himself at the controls. So far, he has cut around 8500 piles down to their finished grade.
As an indication of the time and cost savings achieved, a good average for a ground worker using a diamond blade disc cutter would be around 30 piles per day. Michael and his new MotoCut were getting through around 150 per day. Not only were there productivity and costs savings, but the huge task was also being undertaken in a far safer manner.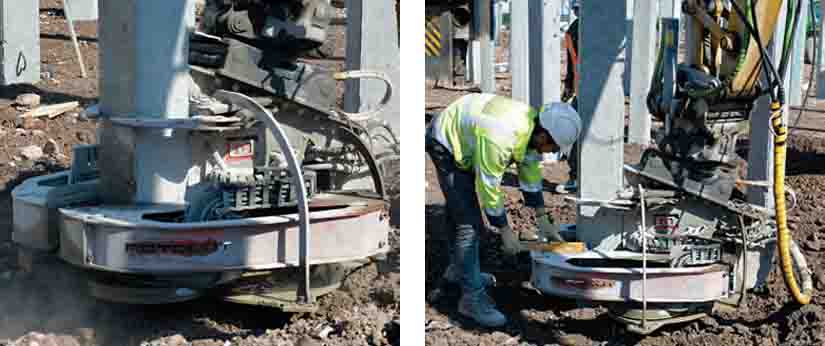 CONFIGURATION
The MotoCut Q350 is the smallest model in the range, designed to cut piles from 200mm to 350mm square. It tips the scales at around 400kg, is suitable for 'excavators ranging from eight to 25 tonnes with an optimum oil flow of 50 lit/ min. It has two diamond cutting blades within its jaws, and the process is monitored and controlled via an in-cab screen. In addition to an auto-cut option, the operator can select a variety of cutting or sawing patterns, including the ability to cut from both sides simultaneously, or just from one side. It was taking less than a minute to cut each of the piles on this site.
When the cut is finished, the operator uses the jaws to twist off the top of the pile. The unwanted pile top can be loaded directly into a dumper or placed on the ground. On this job the offcuts were being picked up by another excavator, which was also responsible for clearing around the next batch of piles to allow good access for the MotoCut unit.
Water for dust suppression and blade cooling is supplied via a plastic tank mounted on the rear of the excavator. On this job, each set of diamond cutting blades lasted between a day and a half and two days, after getting through between 200 and 300 piles.
MotoCut has come to the market with a genuinely innovative product that is safer and quicker than traditional methods of pile cutting. I expect to see a lot more of these highly productive attachments around the sites in the near future.
However, that's not the only innovative product from MotoCut, as they have now launched a plasma cutting attachment for excavators, to tackle tubular steel piles and pipes. This is believed to be the first time that a truly mobile plasma cutter that has been made available. Not only will this be attractive to piling contractors, but would appear to be an ideal attachment for the demolition industry.